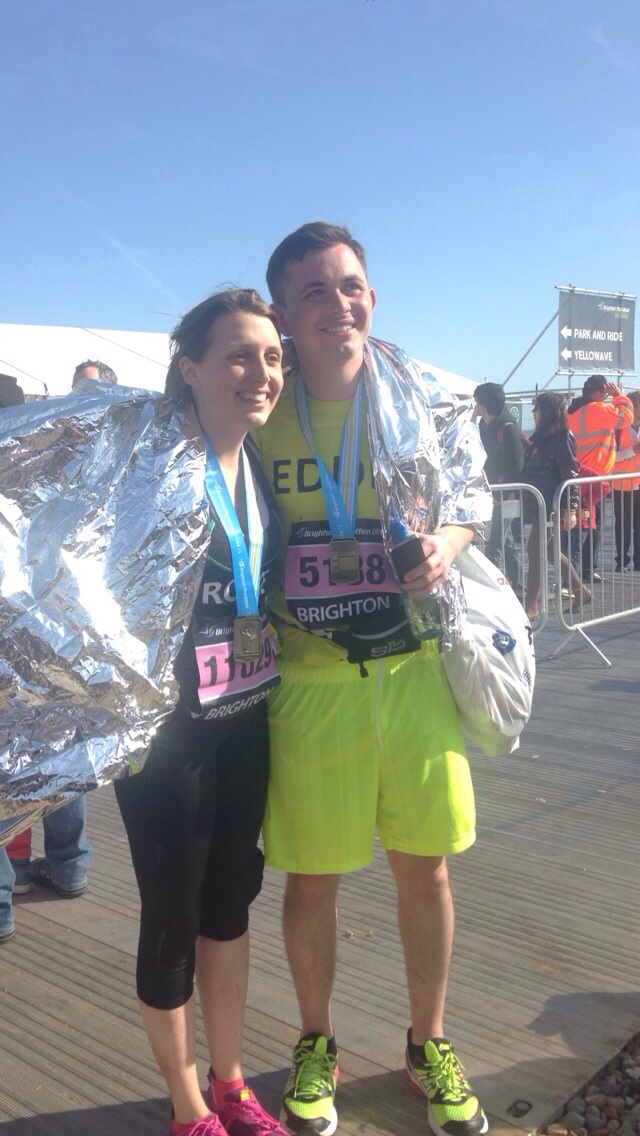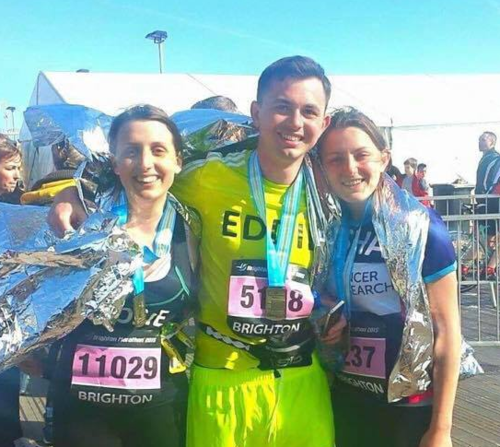 In April 2015, Rosie Adams and Edd Lockton ran the Brighton Marathon to raise money for the Ann Dodgson Foundation.
They join James Jenkins in the growing group of Ann's former pupils, who have decided to run a marathon to raise awareness of the Foundation. In total they raised £1,500, which will make a huge contribution to the work of the The Ann Dodgson Foundation. A fantastic effort! Thank you both.
Almost a year on, Joe Barrs (Trustee) caught up with Rosie and Edd to find out more about the run and what inspired them.
FIRSTLY, HOW DID THE MARATHON GO, WERE YOU HAPPY WITH YOUR TIME?
"The first half of the marathon was amazing, full of atmosphere and support. After that half, it started to get seriously hard! But we stuck together and gave each other support and it was amazing that the crowds still cheered on support, even though they didn't know who we were. It was an amazing feeling at the end when we all crossed the line together. I would have liked to do it quicker, but you don't know what's going to happen along the way but I was happy to do it with other people, that definitely kept me going."
HOW MUCH TRAINING DID YOU HAVE TO DO IN THE BUILD UP TO THE MARATHON?
"We started properly training in December, it was hard after school sometimes but we did it!"
WHY DID YOU CHOOSE TO RAISE MONEY FOR THE ANN DODGSON FOUNDATION?
"Ann was such an influence to me during school and past that. I wasn't a natural in French but she gave me the confidence to think I could do it. I chose the Ann Dodgson Foundation because she influenced me to do things I didn't think she could and j believe in the values that we should be shown another culture and get out of our culture zone: we might see something we never expected and love it!"
WHAT WAS YOUR RELATIONSHIP WITH ANN?
"Ann was my friends mum, known for a very long time. She was incredibly supportive, throughout my time at school and supported me throughout. I was unsure I could do French but Ann never failed to believe in me and sat with me through many tears! It didn't matter what grade I got, it was about what was best for me."
HOW CAN YOU RELATE TO THE WORK OF THE ANN DODGSON FOUNDATION/HOW DOES IT RELATE TO YOUR EXPERIENCES IN THE PAST?
"Obviously Ann was a teacher and bestilled the attitude in me that we should experience things out of our comfort zone and should have an insight into different cultures. If you don't, you're stuck in one mindset. With teaching, I think all my pupils should appreciate things we maybe don't know about. It's good to step out of your comfort zone and find new things. Especially learning a new language and visiting that country. For the most part, it's fun and exciting!"
HOW MUCH DID YOU RAISE IN THE END?
"We raised around 1.3k between us. We were astonished by how generous people were, it was amazing."
IF YOU COULD GIVE ONE PIECE OF ADVICE TO SOMEONE WANTING TO FUNDRAISE IN THE FUTURE, WHAT WOULD IT BE?
"As Nike say: JUST DO IT!! It might seem like hard word but it's so worth it in the end. Try and find someone to do it with you so you can experience it together. And when it gets tough, remember who/what you are fundraising for."