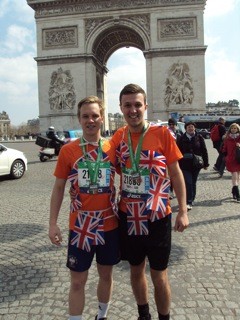 On the 7th April 2013, James Jenkins became The Ann Dodgson Foundation's first official fundraiser, by running the Paris Marathon.
In total James raised £2000, making a significant contribution to the work of the Foundation, especially in its early years.
Chairperson of the Foundation, David Barrs, wanted to thank James for his efforts – "What a fantastic benchmark James has set for future fundraisers. The sponsorship James gained significantly influenced the early work of the Foundation. We are incredibly grateful for his effort and generosity, and we hope he can inspire other young people to do something similar."
In the interview below, James gives a useful insight into fundraising for the Foundation:
FIRSTLY, HOW DID THE MARATHON GO; WERE YOU HAPPY WITH YOUR TIME?
"I was over the moon with my time of 3 hours, 43 minutes. It was my first Marathon and I beat my target time of 4 hours without picking up any injuries or strains. I was very happy that the training paid off."
HOW MUCH TRAINING DID YOU HAVE TO DO IN THE BUILD UP TO THE MARATHON?
"I did 4 runs a week for 18 weeks, starting before Christmas. My running partner and I were determined not to miss a training run so this included a short run on Christmas morning and even running in the snow in Paris in January."
WHY DID YOU CHOOSE TO RAISE MONEY FOR THE ANN DODGSON FOUNDATION?
"Ann played such a large role in improving my secondary school education and determining my choice of higher education and career path. I have a strong interest in French culture and I fully support the Foundation's aims to encourage other young people to be inspired in a similar way. I also thought that the Foundation was a particularly suitable cause to raise money for running the Marathon in Paris – it certainly helped me get to the finish line!"
WHAT WAS YOUR RELATIONSHIP WITH ANN?
"Ann was my A Level French teacher but also a good friend and someone who I asked for advice. She played a huge part in my choice of degree programme and inspiring me to keep up my French throughout life."
HOW CAN YOU RELATE TO THE WORK OF THE ANN DODGSON FOUNDATION/HOW DOES IT RELATE TO YOUR EXPERIENCES IN THE PAST?
"I studied French and Business Management at University, during which I completed a year's work placement in Paris, when I did the Marathon. I then successfully applied for a job which has international opportunities and will hopefully get the chance to work abroad in the future."
IF YOU COULD GIVE ONE PIECE OF ADVICE TO SOMEONE WANTING TO FUNDRAISE IN THE FUTURE, WHAT WOULD IT BE?
"Be persistent – constantly remind people on social media and in the workplace, and if someone says they will donate then don't let them get away with forgetting! Also, it is important to make people aware about the significance of the Foundation from a personal level and the great opportunities it will provide other people our age. People were definitely more willing to donate when they learnt a bit more about the Foundation and realised how much it meant to my peers and I."